Top 5 Wood Stove Manufacturers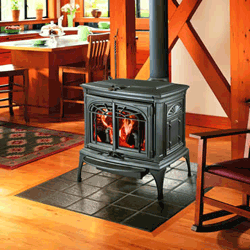 With so many high-quality brands on the market, it is difficult to pick five that could be considered the best, as each brand has their own unique strengths and weaknesses. Below are five brands that are renowned throughout the industry for their continuing innovative designs, attractive aesthetics, and overall reliability. Just don't take this guide as gospel—there are lots of other manufacturers out there who may have just what you want. Instead, see this as a starting point or an introduction into the wide world of wood stove retail.
Austroflamm: Austrian stove makers Austroflamm are among the world leaders in modern stove design. Masters of the clean-burning modernist stove, Austroflamm stoves are stylish, contemporary and unobtrusive. Designed for aesthetic as well as practicality, Austroflamm are also one of the few companies to routinely use circular or ovoid stoves. Most Austroflamm stoves feature interchangeable ceramic or steel cladding available in a variety of colors, allowing for a range of customization not seen in many other stove ranges.
Harman: Another all-American brand, Harman hold over 40 patents and makes some of the most durable and dependable stoves on the market. Started in a Pennsylvania garage in 1979, Harman produces some of the finest stoves in the whole of the United States and is meticulous in its quality-control process. Harman stoves also come with a very solid warranty.
Morso: Danish stove maker Morso is one of the oldest companies in the business, existing for over 155 years. Morso stoves come with a 10-year guarantee as standard, and are normally made from outstanding-grade cast iron. Their 'Squirrel' line, designed by architect Constantin Sorensen, is one of the most popular small stoves on the market.
Stovax: One of the UK's largest home heating brands and widely regarded as an industry leader, Stovax provide just about everything from wood-burning and multi-fuel stoves to gas fireplaces. Set up in 1981, Stovax are renowned for innovative, stylish home stoves designed for basic home heating, and are another manufacturer that produces excellent small stoves.
Wittus: Wittus Fire-By-Design, based in Pound Ridge, NY, is a family-run company with over thirty years experience in the stove-making field. Taking inspiration from classic European designs, Wittus prides itself on creating stoves that focus on artistry and aesthetic, making the flame the focal point of the stove. Wittus are regular recipients of major international awards, and are considered one of the foremost aesthetically-oriented stovemakers.

Related Information

Alternative Ways to Heat Your Home