Stove Heat Output Versus Room Size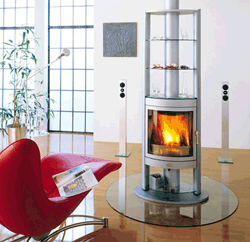 Heating homes has always been one of the first and major reasons to buy a stove. Now, in general, a larger space will require a larger stove to adequately heat, but newer houses are built to retain heat better, and so nowadays, homes will not require an overly large stove to heat them.
There are several factors influencing the efficiency of heating a home with a stove, however. For one, stoves are best at heating the room they are located in, because heat from a stove spreads to the rest of the room through radiation, which travels in a straight line, and convection, where air heated by the flames moves out of the stove and across the room, albeit much more slowly than radiation. Itís no surprise that a house with a lot of smaller, interconnected rooms will be heated up more slowly than a house with a single large room, even if they have roughly the same surface area, because the walls are an obstacle to the radiation of heat, and convection moves too slowly to properly heat the other rooms in the house. Turning up the heat does little to solve the problem because the increased heat still spreads too slowly through the house, and a high heat source in an enclosed space is uncomfortable, to say, the least. Worse still, you might damage your stove from burning it too strongly, and that might lead to a broken stove, or worst of all, a fire.
The solution to heating multiple small rooms is central heating, where heat from the main stove is conducted to the various rooms by means of heating vents leading from the main stove. However, these have to be built into the house, and often, the alternative is simply buying small electric space heaters and distributing them throughout the rooms, which can be rather wasteful.
In general, the best way to make use of the stove is to put them in the places where the most people will spend the most time. Walls, as mentioned earlier, retard the spread of heat from a stove, and that is why itís pointless installing a stove in the basement if you want to heat the upper levels. The upward rise of heat will take too long, and meanwhile, the energy spent on heating the basement is wasted. Itís only a good idea to install a basement furnace if your family spends a lot of time in there. Otherwise, just leave it in the living roomóyouíll be able to enjoy a crackling fire amidst its warm glow on your couch.

Related Information

Different Types of Home Heating Systems