Top 10 Wood Stoves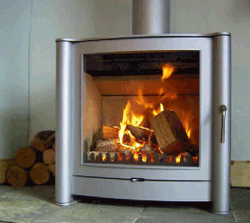 Harman P68 Pellet Stove: This award-winning stove is not only stylish, but sophisticated too. It incorporates a microprocessor that senses the fire temperature and room temperature and adjusts the pellet feed automatically to compensate. Great stuff!
Quadra-Fire Pellet Stove: This impressively named stove comes with a plethora of functions, though it's ranked lower than the Harman because of user feedback that it requires more day to day maintenance than the Harman. Still, the Quadra-Fire is a great buy.
Breckwell P22 Series: While not as flashy and impressive as the Harman or the Quadra-Fire, the Breckwell P22 and family are well made heavy duty steel stoves that are considered great value for money. They even have all the conveniences of modern pellet stoves, such as an automatic fire-starter and fuel feed, at a price that won't break your bank.
Englander 25-PDVC: Occupying the same "value wood stove" niche as the Breckwell P22, the Englander benefits from having a superior customer service policy, and its minimalist design reduces the amount of maintenance you'll have to perform on it. As a bonus, it can be found in most Home Depots. Affordable and accessible!
England's Stove 55-SHP10: A pellet-burning stove, the 55-SHP-10's main claim to fame is its ability to function effectively at over 4000' of altitude; perfect for the modern mountain man.
American Harvest: This unique entry is a corn-burning stove! Its hopper can hold up to 60 pounds of dried corn, and it comes with a negative draft blower to reduce smoke spillage. It also has an automatic heat circulator to properly spread the heat it generates.
Snow-Flame 5000: Yet another corn burning stove, the Snow-Flame 5000 can be adjusted to produce anywhere from 8000 to 40000 BTUs of heat, and can be fitted as a fireplace insert, freestanding stove, or a corner insert; a quality product indeed.
Woodmaster 4400: The Woodmaster 4400 is a large wood-burning stove, ideal for heating outdoor properties. Instead of heating air, it heats water, which transfers heat more efficiently, and also provides hot water for use in bathing and the like. A beefy and reliable product.
Hawken Energy: Much like the Woodmaster, the Hawken Energy outdoor furnace burns in a firebox that's surrounded by water. It includes an automatic draft regulator which starves the fire of oxygen when a certain temperature is reached, conserving firewood.
Jotul F 500 Oslo: This traditional iron fireplace design not only burns cleanly, but loads conveniently too, from the front and the sides. Not only that, it also includes an open door fire viewer, so you can watch your fire burn while basking in its warmth!

Related Information

Different Types of Home Heating Systems