Advantage of Using a Duel Fuel Stove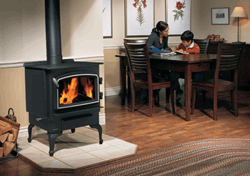 If you're looking to purchase a new stove you might be overwhelmed by all the brands, designs, functionalities, and performances that are on display on the market. A very popular combination in today's stoves is called duel fuel. It is the ultimate option in functionality, where the top burner is all gas, high flame, griddles, and all that good stuff, but with an electric oven below. If you do have the availability of gas for your home, duel fuel is the most advantageous choice.
Instant gratification: Most professional chefs swear by cooking with gas, giving you the most opportunity for a triumphant meal, especially for skillet and wok cooking. When you turn on your gas stove, you get instant gratification, because your oven gives you a hotter and faster flame and you can control the exact amount of heat immediately. However, the temperature fluctuates a lot due to the actual burner cycling on and off to maintain the temperature you set on the thermostat.
Keeping it cool in the kitchen: If you cook a lot you're probably familiar with dealing with a warm kitchen while items are cooking, boiling and frying. Gas cooking actually creates less overall heat, so you can enjoy a cooler environment. Because you can so easily control the temperature of the gas, the top of the stove cools off faster, as opposed to an electric surface. And a cool stove top means no accidental burns or melts.
Gas needs no power: If you live in an area that is prone to weather conditions causing power outages, you won't be able to use an all-electric oven, but with a duel fuel kind, you know you can rely on your gas stove top (as long as you keep a supply of gas).
Electric means less operator control: As many advantages as an all-gas oven may have, the duel fuel option is great because you can still choose to bake a meal that doesn't require as much operator control. With the electric part, you can trust that the temperature is even and requires less ventilation and maintenance. Just preheat to desired temperature and know that the temperature won't change. This is due to the fact that the electric part of a stove is more of a sealed environment where the elements can turn down to maintain a more precise temperature. So if you're baking cookies, a cake or pie where your temperature should be more precise, you can trust that the oven is doing its job while you can still cook on the gas stove top like a pro. Last but not least, if you need to roast something, you want to do it in an electric oven. Gas tends to produce a lot of humidity and is not able to roast/toast as well as electricity.

Related Information

Stove Heat Output Versus Room Size