How to Keep Your Heating Bill Down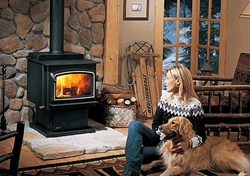 For most people, when that first icy bite of winter hits, the first reaction is to whack the thermostat up as far as it will go, run a hot bath, jump in and keep topping it up every time the water temperature threatens to drop below steaming hot. However, with increased heating use comes the heating bill… and the colder the winter, the higher it can rise.
That said, there are plenty of ways in which the frugal homeowner can optimize use of their heating systems and keep the heating bill down. All it takes is a few little neat tricks here and there, and you may well finding yourself saving enough to go out somewhere nice and warm for the day!
Whenever you're just in the house during the winter, wear loose, dark clothing – ideally, several layers of it if you can. Dark clothing retains body heat, eliminating the need for cranking the 'stat up so high. Wearing a hat and a scarf can also help with heat retention – the body loses up to 30 percent of its heat through the noggin. It may look silly, but you'll be surprised how easy it is to sit and watch TV when wrapped up nice and snug.
Make sure you turn your heating off or right down when you go to bed, and invest in some super-thick duvets. Duvets are great at enclosing body heat, and if there's more then one person in the bed, even better!
If you can, turn off all ventilation and extraction fans (such as those in the bathroom) unless they're absolutely necessary. Extraction fans can drain a house of hot air faster than you can blink – often in under an hour. On the opposite hand, if you use an oven then leave the door open after you're finished cooking… it all adds to the hot air circulating around the house.
Keep all storage spaces closed. Your wardrobes, cupboards, and attics don't need to be heated, so don't waste warm air by letting it circulate into them.
Finally, make sure all your pipe work is as well-insulated as you can possibly make it. Well-insulated pipes do not lose heat so readily, keeping them warm for longer. It can also help prevent the pipes from freezing over during any particularly cold snaps, so make sure you get your pipes insulated before the winter kicks off. Also, if you have cavity walls, consider getting insulating foam sprayed in to them, as well.

Related Information