How to Safely Use Your Wood Stove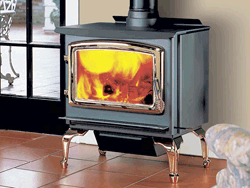 Over the last few years, wood stoves have grown tremendously in popularity. However, with this rise in usage comes a rise in injuries, and a significant leap in the risk factor involved in heating your home. Wood stoves can be very, very dangerous if not used correctly, and can cause severe injury, property damage and distress if they go wrong. Luckily, making a wood stove safe to use is very, very easy to do. All it needs is a little bit of care, diligence, and the ability to follow a few simple safety guidelines.
Wood stove safety starts before you've even bought the thing. Once you make the decision to buy a wood stove, have a certified installation technician check out your existing chimney, ventilation possibilities, and masonry. Ensure that the stove you are buying is fully tested, certified to whatever safety standards apply in your area, and has a competent person assigned to maintain it.
Choosing the stove is another crucial step in the safety process. Make sure the stove is built using approved materials—cast iron, steel, or ceramic for the body, heat-resistant glass for the fronting, and 22-24-gauge steel for the pipe.
During installation ensure that the stove is set well away from any combustible materials, including carpets, floors, walls and ceilings, and is mounted on a non-combustible base. The opening of the stove should have at least 18 inches of combustible material between the loading point and the edge of the stand. Make sure the stove pipe is properly fitted and located; check with your installation technician or retailer to confirm this. In short, make sure the installation is carried out competently, safely, and is checked over by someone with relevant qualifications and training.
Once you're done with the installation, it's time to start protecting your home and family. Firstly, make sure every room affected by the stove has a functioning smoke alarm, complete with working battery. Consider purchasing a wire-mesh fireguard to keep children, pets, and other people away from the stove, and make sure that any furniture is located far enough away that anyone falling off of it avoids a nasty burn. Never leave the stove on in the room unattended, and always make sure there is a source of water or sand nearby to extinguish any fires that might break out.
A wood stove is a great way to add warmth and atmosphere to a home, but it must be treated with the utmost respect.

Related Information