How to Shop for an Outdoor Fireplace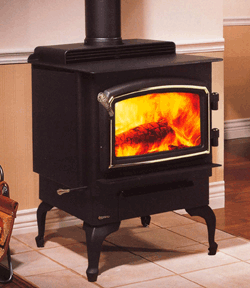 Ever since Neanderthal man first rubbed two sticks together and wondered what that nice, warm, flickering reddy-orange-yellow thing that appeared was, the outdoor fire has been a ritual gathering-place; somewhere to mingle, chat, have fun and discuss business. The outdoor fireplace is the modern evolution of the communal fire-pit, bonfire, or camp fire—a centerpiece of the garden where everyone can get together and relax in the warm.
Of course, choosing an outdoor fireplace isn't anywhere near as easy as it sounds. For the first-time buyer there are all sorts of pitfalls and things to consider before buying an outdoor fire. Outdoor fireplaces are normally split into two distinct categories; chimineas and fire pits. A chiminea looks like a normal wood-fired stove, except with a fixed chimney that normally reaches over five feet in height. This allows smoke to rise, and not get in the way of the fun and games. Fire pits closely resemble old camp fires, and often feature a circular stone wall to contain the fire.
The first thing to consider, as always, is safety – not only your own, but that of your guests and neighbors as well. Make sure you pick the site of your outdoor fireplace carefully, well away from combustible or flammable materials.
Then, select the type of fuel you would like your fireplace to use – wood and woodchips may be more authentic, but gas is much cleaner and less dependent upon good weather. Gas pits tend to be much safer, more easily-portable, and can be used all year round reliably, unlike wood. However, nothing beats the smell and sound of wood burning on an open fire.
If you want a permanent outside source of heat, then the chiminea is the best bet as its stove-like configuration allows for the optimal flow of hot air. Look for one constructed of either copper or steel, as these are less likely to rust than stoves made of cast iron. Cast iron is, however, a lot sturdier and stronger than most other metal, and is normally the most affordable option.
However, if you want the effect more than the heat, plump for the fire pit. Copper surrounded by stone is particularly popular for fixed fire pits, while steel makes for the best portable pit. Nothing evokes that feeling of togetherness and camaraderie than a good old chat around the camp fire, so if it's just socializing you're after, you can't go far wrong. They're also much easier to toast marshmallows on.

Related Information

How to Safely Use Your Wood Stove