Benefits of Owning a Wood Stove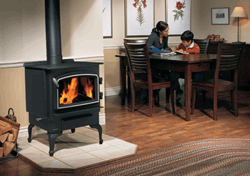 The stove is quite possibly the best solution to the heating needs of the home, and wood stoves are one of the best kinds of stoves around. While electric heaters and cookers may get the job done with less fuss, they also tend to be much more costly and gulp electricity like gluttons, which drives up the power bills and makes their total cost of operation even more expensive. In addition, they tend to require much more maintenance and care, and due to the subtle way in which they work, they might even end up being more dangerous than, say, a wood stove. Gas and spirit-powered burners are similar to wood stoves in utility, but their volatile fuel poses a much higher risk of explosion and a greater fire hazard than wood stoves. Charcoal-fueled stoves are most like wood stoves in their overall performance, but charcoal is dirty and is generally stored apart from the living areas, which may well be where you want to place the stove!
In contrast, wood stoves have a host of advantages to their name. For one, wood is much less messy than charcoal, and poses less of a health risk (due to ingesting carbon particles from the charcoal). Wood fuel is not at all volatile, and thus presents much less of a safety risk than bottles of gas or flammable spirits, which must be kept away from heat and open flames at all times. As mentioned earlier, wood stoves do not depend on the power grid for their operation, and the utter simplicity of the wood stove means that they will only stop working if, by some universal calamity, the laws of physics change so that combustion becomes impossible (and we suspect we will have greater concerns than warming ourselves should such a disaster occur). Wood stoves also burn very cleanly (with the right kinds of fuel) and very hot, which makes them ideal for space heating. While theyíre inside the house, they can also double as heat sources for cooking. Performing either function with a wood stove also lends the whole thing a homey, old-fashioned feel that has sadly gone out of style in recent years, a casualty of the ruthless consumerist efficiency drive.
Other hidden benefits of wood stoves include the ability to burn scented wood fuel to fill the home with attractive, soothing scents, or the ability to burn special kinds of wood in order to smoke meats with a unique flavor. With all the upsides owning a wood stove has, itís a wonder why there arenít more people with one!

Related Information