Firewood Processors - The Industrial Way to cut firewood.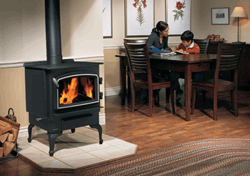 Firewood processors are big pieces of equipment used for processing large amounts of firewood. They may range from about $10000 to up to $50000 for a larger commercial unit. Depending on how much firewood you have access to, it may be worthwhile to think about setting up a firewood business operation in your neck of the woods, and so the cost might make sense.
From an operational standpoint , a firewood processor is basically a log cutter and a log splitter welded on the back of a trailer. Obviously, a commercial model will have top of the line cutting tools and ramming devices to cut and split logs, but its not anything too high tech. Its feasible that someone could build their own firewood processor, but that would take quite a bit of metal working and welding expertise.
If you live in an area with ample firewood to cut, a firewood processor could make sense. It will save time on the wood cutting and splitting for yourself for sure. The processor may easily pay for itself after a few cords cut. Or, you could split the cost with a couple neighbors. A used firewood processor may make sense, too, especially in hard economic times. Chomper Firewood Processors are also a good low end brand for around $10K-$15K and would probably make economic sense in a used version as well.