Firewood Logs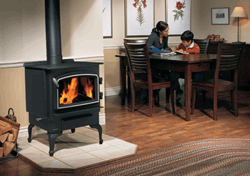 Properly preparing your firewood logs is important to creating a good burn in your wood stove or fireplace.
Using seasoned wood is key for good firewood. Wood needs to be split, stacked and dried before it can be considered seasoned. Dead wood on the ground is not considered seasoned. The seasoned part of firewood has to due with the drying process. Wood on the ground simply cannot dry out as well as properly stacked wood. The bark does not allow exposure to the air. Splitting wood exposes more of the surface area to air and sun, speeding up the drying process. You can use a moisture meter, or you can make some quick checks. Dry firewood logs tend to have some checks or cracks in the end grain. Also, aged seasoned wood tends to go from white to gray or yellow when drying. You can also check the sound of banging two pieces of wood together. If the pieces sounds hollow and high pitched then the firewood log may be dried.
Most firewood can be called seasoned after 6 months or so. Your firewood cutting should then be done in early spring to allow ample time to season.
Besides the firewood logs, the trimmings and branches from a tree make excellent kindling wood. Be sure to season this wood as well.
A firewood kiln can be used to dry firewood, but this is expensive. If you have cut your own wood already anyways, let mother nature take her course.
The best firewood depends on your area. Traditionally, hardwoods like elm, hickory, and oak are the densest and have the most BTUs. However, softer woods like birch tend to burn softer and offer better heat control. The firewood tree type that is closest to your home will probably offer the best value.