Sierra Stoves
Sierra wood stoves are known for its excellent engineering, versatility and complete value for money for more than 30 years now. The company is manufacturing world class heating and cooking products under the brand names of Sierra, EasyChef, Easyfire and Innohearth. Sierra wood stoves come with three product categories in the market and provide the cutting edge heating solutions for home and commercial purposes. There are catalytic, non catalytic and thermostatic control Sierra products available. The class design and flexible installation of these stoves makes them popular where other companies fail. Wide product range is available in each category to meet your different heating requirements. The stoves are easy to install and operate with minimum maintenance required.
Some of the exceptional features which leads to the success story of the brand are:
Sierra stoves meet the EPA emission requirement and national safety standards
Maintenance of the stoves is much easier with most models having removable ash pans
The most interior part of the stove can be replaced and cleaned easily.
The stoves are equipped with large fire box to give long burning hours.
Convenient air control enables better heating experience.
Removable ash pans for easy ash removal.
The stove construction is made heavy duty for longer life.
All stoves come with limited life time warranty.
The options in door styles like black metal finish, 24K gold finish and Nickel finish will blend well with your home interiors. There is also an additional option for the blower with variable speed. Both the catalytic and non catalytic Sierra Wood Stoves are designed so as to give maximum heat output with less emission and minimum loss of heat to the chimney.
Below are the various models available in Sierra Wood Stoves:
Sierra 8000: the stove is designed to be installed as a free standing or as a hearth. This is a catalytic stove and can be loaded from side and front. The airwash system keeps the glass clean. The stove accepts 28" logs.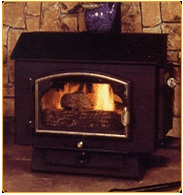 Sierra 4700TEC Insert: This is a fireplace insert which looks great in your home. The stove has a thermostat control system for higher efficiency and output. The large fire view adds a dramatic touch to the fireplace. The stove takes 24" inches logs and heats up to 3000 Sq.Ft. area.
Sierra 2100: There are three models in this class, Sierra 2100PB: pedestal; Sierra 2100FS: free standing and Sierra 2100HS: hearth stove. The stove is constructed of heavy duty steel for maximum durability. The firebox is made large to enable overnight burning hours. The easy air control operation and ash removal system makes the stove popular.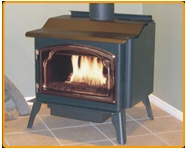 Sierra 5300: This model is also available as the pedestal and insert stove. This stove is small yet powerful and has the heating potential of 36,300 BTU's. The insert can prove an excellent wood stove for the built in fireplaces. Due to its smaller size it can be installed occupying a very little space.
They also make the popular Shenandoah line of wood and dual fuel heaters as well.