Shenandoah Wood Stove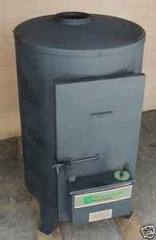 A Shenandoah wood stove is actually part of the Sierra line of heating products. They have kind of got their own cult following over the years. I don't think they're the prettiest designs but they do seem to be effective. Their model line can be broken up into two styles:
R77E - This is the dedicated woodburning unit. Once nice feature with all of their stoves is the build-in thermostat, whic helps automate temperature. It also has a nice build-in grate and a good-sized ash bin to facilitate cleanups. This holds logs up to 24" inches or so.
R65 - This is is the dual fuel model. As with the R77, it has the temperature controlling thermostate. The R77 will take either coal or wood but is smaller and a little less powerful than the R77. This heater will take logs up to eighteen inches and up to fifty pounds of coal per load.