Alcohol Stove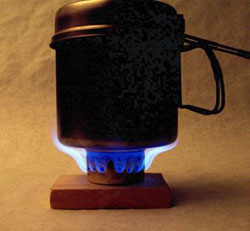 An alcohol stove is extremely lightweight, portable stoves, suitable for hikers, cyclists, and horseback riders. They are a definite alternative to a backpacking wood stove. They typically burn methanol. Methanol is the same type of alcohol used in anti-freeze, solvent, and fuel. One of its largest advantage is also one of its dangers. Methanol burns very clean, almost invisibly. Stoves that burn methanol have clear, almost invisible flames, and very little smoke. As a result of this, you should be very careful not to burn yourself. The alcohol lends itself to use in wick-type stoves, and don't require a lot of priming or pumping.
Methanol is odorless and colorless. If you accidentally spill some on your clothes or your gear, you won't be plagued by the scent of gasoline for the rest of the trip. You can find the fuel for these stoves in almost any hardware store or gas stations. Also, methanol is fairly cheap.
Alcohol-powered stoves are extremely lightweight and easy to carry. Most of them are designed to be fool-proof, and they're easy to set-up and use. They are a great choice for anybody who needs a portable easy-to-use stove, but doesn't want a bulky wood burning camp stove.