Wood Stove Installation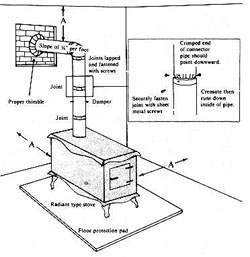 Wood stove installation is a long process that doesn't begin or end with the wood stove. The first thing to consider when you're about to do an installation is your chimney. If you're installation is not done correctly, there can be very serious, even deadly consequences. All things you should take into consideration when doing an installation are all matters of safety, and none of them should be overlooked.
First, you must have a chimney in place for your wood stove. You cannot use a stove pipe and stick it through the ceiling or a window. You should either have a masonry chimney or a stainless steel class "A" insulated chimney. The taller the chimney, the better. There should also be no, or very few, bends in your chimney, to facilitate a good upward draft. The stove pipe should not go through any walls or windows. The shorter, the better.
The second part of your installation should be double checking your wall and floor safety. Your wood stove should not sit directly on your floor or carpet. Take the time to decide what sort of fire-resistant, approved materials you want under your wood stove. These materials include a concrete slab, ceramic tile, marble or slate. Wood stoves should be set above the ground on legs.