Wood Stove Insert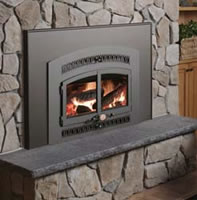 If you have a heat losing fireplace in your home, there are generally two options to fix the situation. The first option is a hearth stove. A hearth stove is a free-standing wood stove that has a pipe attached to the chimney. The hearth stove does not come in any contract with the masonry, so the masonry cannot conduct heat away from the stove and out of the house. The other popular option is the wood stove insert. An insert uses the principle of air convection to heat your home.
A stove insert is made of two boxes. The inside box in an insert is a firebox. The firebox is the smaller of the two. The outside box is designed to trap the hot air before it leaks out of the insert, and reflect it back to the firebox. Because of the current of air in the stove insert, the air gets trapped between the two boxes and superheats. The superheated air flows out of the insert and into the room.
Not only does the insert maximize the movement of heat through the house, it does so while fitting snugly in your fireplace. This can be more aesthetically pleasing than a hearth stove, and inserts can also be safer.