Wood Stove Accessory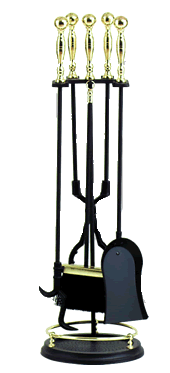 A wood stove accessory can help to improve the performance of your wood burning stove, and make your life a little bit easier. Accessories include child protection gates, fireplace screens, fireplace tools, log racks, hearth rugs, and hearth extenders.
For many, the child protection gates are the most important wood stove items. Even the most careful, well-behaved child could be at risk near the fire place. Many child protection gates are designed to look like they're part of the wood stove, and they come in various heights and sizes, to be suitable for your needs. Fireplace screens are also good items to invest in. Many fireplace screens act as spark protectors. If a draft comes down your chimney, these accessories can stop the sparks before they land on your hearth or furniture.
Other important items include fireplace tools, such as a poker, a shovel, and a hearth brush. A fire poker allows you to move the logs as needed, as well as find any coals buried beneath ashes or cold logs. A shovel allows you to remove ash from your wood stove, which greatly reduces the risk of an out of control fire. A hearth brush keeps your fireplace clean of ash.