Wood Burning Stoves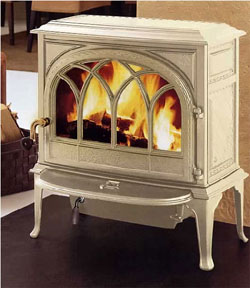 There are many different types of stoves on the market, including gas stoves, coal stoves, and pellet stoves. But wood burning stoves are among the most economical choices, and most people who use stoves are looking for the most economical, cost-effective solution. There are many ways to maximize the heat and energy from these stoves.
First, realize that these stoves are classified as space heaters. A space heater is defined by an object designed to heat the immediate space it occupies. Originally, they could not heat an entire home. But now most homes are more energy-efficient, and have better insulation, so it's conceivable for wood stoves to be enough to heat an entire house if it's centrally located in a main room. One poor place to put stoves is the basement. Heat does rise through the house, but it will ultimatey overheat the basement.
It should go without saying, but you should only ever burn wood in your stove. You should never put trash or particle boards or pressed wood in a wood burning stove. The chemicals released can be toxic. Find chopped, seasoned wood to use.