Wood Burning Stove Insert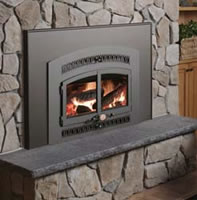 Fireplaces are an inefficient way to heat a room because a great deal of heat is lost up the chimney. Masonry also absorbs more heat. Very little heat moves through the room, and even less heat makes it out of the room. Masonry is also a very good conductor of heat, especially if the chimney is on the outside of the house. The masonry in the chimney will conduct heat away from the house and outside, where it's colder. If you want to maximize the heat in your house, you may want to look into a wood burning stove insert. An insert will stop the masonry from absorbing the heat because they are designed to use a technique called air convection.
Stove inserts have an outer box that completely surrounds the firebox. The outer box in an insert traps the air before it can be absorbed the masonry. Then the box in the wood stove insert reflects the air back into the firebox. The air between the two boxes will superheat, rise, and be carried out into the room, very little of it being absorbed by the masonry. Some inserts come equipped with a fan or a blower. This will force even more air out the front opening and away from the masonry.