Victorian Wood Stove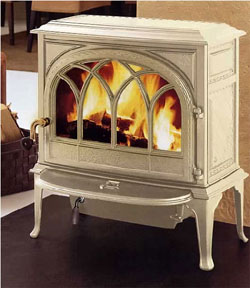 The Victorian style of decoration and architecture is very unique and instantly recognizable. Victorian refers to a specific era in English history, the rule of Queen Victoria from 1837 to 1901. The Victorian era is characterized by various social, political, and religious changes and perspectives, but there is also a specific architectural and artisan style. One of the most interesting things about the Victorian aesthetic is the influence from the middle east and Asia, as the British Empire extended across the globe.
The Victorian wood stove is typically made of cast iron. Cast iron wood stoves were very popular in the nineteenth century, due to the Franklin stove. The cast iron Victorian stoves were very durable, very heavy, and very ornate. These wood stoves were typical of other Victorian designs, in that they mimicked or replicated styles from earlier eras. Many styles were revived, and the Victorian often had tiles on the hearth, in highly decorative and precise patterns. The Victorian was typically placed only in the kitchen, though it was used to cook as well as warm the house. This type of wood stove did come equipped with an oven. They were typically very large because they were built with shelves and cupboards to hold a variety of utensils and other foodstuffs.