Stove Pipe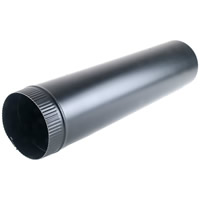 The stove pipe is also known as the chimney connector. It connects your wood burning stove or fireplace to your chimney. You should be careful with your pipe. It should meet certain standards so that it does not become a fire hazard. The National Fire Protection Agency (NFPA) has set standards for these parts to protect you, your family, and your home from peril.
The pipe should be made out of a corrosion resistant steel of a certain gauge. The gauge number is differs depending on the diameter of the part in inches. If the diameter is six inches or less, the gauge number should be twenty-six. If the diameter is sixteen inches or greater, the gauge should be 16. For added safety, it should be as short and straight as possible. There should not be any angles at all, though it can have one to two, but the angles should be 90 degrees. Do not pass these parts through a combustible wall to reach the chimney, or through a ceiling. If you must, the NFPA insists you use a collar on the wall.
Some stove pipes can be very decorative and beautiful pieces to your wood stove, just be sure to follow proper safety guidelines.