Replica Antique Stove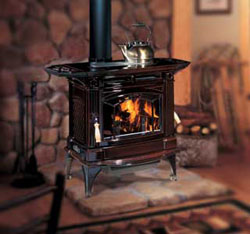 Stove technology may have been improved over the past century, but for many people, stove style has not been. There are many collectors interested in finding and restoring antique stoves. Some are interested in the history, others thrill at the hunt, while still others enjoy the actual work of restoration. But not everybody who is interested in the look, design, and feel of an antique stove wants to invest countless hours and money into finding and restoring a genuinely antique stove. For those people, a replica antique stove could be the best option.
Replica models are designed to look and feel just like a real antique stove, though replicas meet current emission requirements and are sometimes made from lighter materials. Replicas can add a bit of personality to anybody's kitchen. They are also great for people who are restoring an old house or hotel. They can be a good center piece for an entire family to gather around, and a great conversation starter. Most replicas function like modern stoves. They tend to have the shell of the antique stove around modern technological elements.