Pellet Stove Installation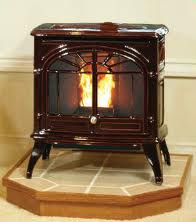 A pellet stove installation is a little different that your standard log burner. Although they both generate heat from burning wood, there's a couple things you'll want to keep in mind.
Site - As with log burners, you want to have your pellet burner situated in the area of the house where the most heat is needed. For most people this would be on the ground floor in a living room. That position will allow the best circulation of heat to the upstairs and other areas on the living level. Some people install in the basement, which can be done, but may impeded the heat circulation.
Hearth - Once your site is selected, you need to make sure it has the appropriate clearances and space to combustible areas. You also need to make sure the floor can handle the intense weight. A hearth pad may be needed to keep the weight spread and prevent a floor surface from burning.
Electrical outlet- Pellet stoves have the added nuance of the electrical feeding system. Obviously you will need to have wiring available to connect to. You should also consider a surge protector, to prevent the delicate electronics from getting fried. You may also want to have a battery backup. If the power goes out, your hopper would be dead as well. Not something you want in January! You'll either need to have access to a wall outlet, or have pre-existing wiring or access to an electrician. Pre-wiring is especially important if you have an insert model. This is practically a requirement in fact. You really don't want to be snaking a power line across the room into your hearth. You'd be surprised to learn how many new heater owners have a perfect spot picked out, only to remember that the power supply is not anywhere nearby. If you are lucky enough to get a unit with a thermostat or remote control, you'll need a spot for that too as well as any possible wiring.
You'll also need to consider ventilation. Some units need or suggest an outside air feed. You'll want to have easy access through a wall for both intake, and obviously for venting. In general, you'll want to have an exhaust that's as directly straight up as possible. There are some models with direct vent, which basically sends the hot gases straight out the wall. The danger here is that this relies on the blower, so in many cases isn't the safest should the power go out. A good straight chimney also helps draft for the air intake, so it can definitely help the efficiency of your fire.