Patio Wood Stove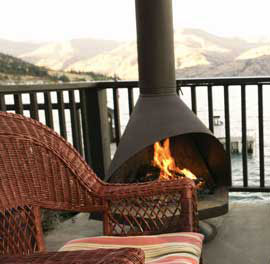 In the past several years, patio furniture, patio design, and patio decoration has taken on as much importance as the inside of your home. Patios are gathering places for friends and family. Patios can be your escape from a hectic life. Patio furniture can be very ornate and decorative, and a patio wood stove is no exception to this pattern.
Patio stoves serve three primary functions. Some are meant to be purely decorative. These models are beautifully designed. Some of them are meant to look like old-fashioned cooking stoves, while others are updated versions with a more modern aesthetic. Some patio stoves are meant to be primarily heating appliances. These types of stoves are also beautiful and well-crafted, but they pass certain emissions standards and produce enough BTUs to heat up a patio and warm your outdoors party. The third type is a wood cooking stove. Patio stoves used for cooking can be a great alternative to cooking in the hot house during a long, summer night. Patio wood stoves also need to pass certain emission standards.
There are many wonderful styles and types for each purpose of patio wood stoves.