Coleman Stoves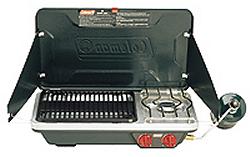 Coleman stoves are designed to fit the needs of the most casual camper, as well as the most keen outdoors enthusiast. Coleman is dedicated to designing the best, high-quality, longest lasting camping stoves on the market. Propane stoves, liquid fuel stones, and backpacking stoves are three different types of Coleman models. Each type is the top of the line and can suit a variety of needs.
One important thing to think about when comparing Coleman models is which type of fuel is right for you. Propane is the most commonly used fuel type used by campers, because it is easy to use, and easy to pack. But propane isn't the lightest weight option. If you are searching for a stove to carry on a hiking expedition, you might want to avoid choosing a stove that runs on propane. The lightest option available is Coleman's "Powermax" fuel. These lightweight, recyclable cartridges are friendly on your back as well as the environment.
Their stoves are easy to clean and maintain. Keeping your stove clean is the easiest way to prolong its life and keep it looking sharp. Be sure to clean your stove after each use and before packing it away.