Cheap Wood Stove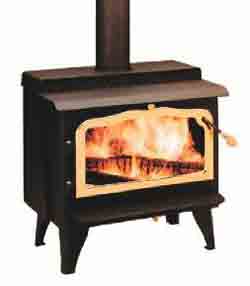 Wood stoves are a great alternative to most modern techniques to heat a home, because they are cost effective and efficient. But if you are choosing to use a wood stove as a heat source, you might be doing so because you don't have a great deal of expendable income, and you could be looking for a cheap wood stove. Some high-end models of wood stoves can cost a great deal of money, and are very expensive when compared to inexpensive wood stoves. Wood stove pricescan vary based on the type as well, from boxwood to pellet.. Even if you can't afford an expensive high-end model, you should be able to take advantage of the efficiency and heat of a fair-priced stove.
Most inexpensive models are box stoves. They are a cheaper stove because, while still effective, they are less efficient than other high end models. Box stoves radiate warmth from the fire box and into the room, but it draws air for combustion through the door. As a result, it is not airtight. Box stoves also allow a great deal of chemicals and heat to escape through the chimney. Despite these issues with box stoves, they still offer warm benefits.
The cheapest wood stove we've found is the Vogelzang LitL Sweetie Boxwood Stove, Model# BX22EL
. This is the boxwood stove design, which again is cheaper to make and design for manufacturers. Its a fairly new model without a lot of users. The BX42E model has gotten positive reviews, so we believe that this little heater will perform well, albeit for a smaller space. For a price around $150 dollars, its hard to beat and it is probably better than risking a used stove purchase.