Camping Stoves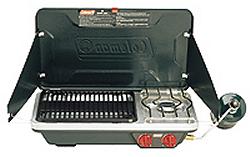 Camping stoves should be light, easy to carry, easy to operate, and safe. Many people don't know how to cook their dinner on an open flame, and a large fire can seem like overkill when you only want to heat a can of beans, warm water for coffee, or fry up the trout you caught out on the lake. There are many different types of camping cookers, and the right one for you depends entirely on your needs as a camper.
There are two different types of fuel used in these stoves. You can choose between cartridge stoves and liquid gas stoves. Each type has its positives and negatives. Cartridge stoves tend to be smaller than liquid gas stoves. If you've never seen a cartridge stove, they are about the size of a grape fruit with a single burner over a canister. Cartridges are disposable after they are run out, and cartridge stoves are clean burning.
Liquid gas canisters are larger, bulkier, and burn hotter than cartridge stoves. As a result, liquid gas models are great for all-season camping, and outdoors enthusiasts who spend a great deal of time working with their stove.