Brunco Stoves

Brunco stoves are designed to provide the unique home heating solutions with maximum burning time. They are known for their furnaces as well. The innovative technology used by these stoves reduce the loss of heat in form of gases to the chimney and provide the maximum heating to the room. They are fully automated and airtight to control the temperature requirements of your home. The heat cotrollable options provide you the desired heat and helps to maintain the same. The stoves are efficient enough to provide overnight burning hours. With the high construction quality the Brunco stove are very durable and lasts long.
Here are some of the main features of all their models:
All the models are multifuel stoves: they can use coal as well as wood for burning.
They have the shakable grates made up of cast iron.
The stove features wall thermostat to control the temperature as desired.
The stove has thick brick lining to maintain high temperatures.
Ash removal and reloading is done through big cast iron doors. They are made airtight for increased performance.
Uses secondary heat exchange mechanism.
The firebox is equipped with efficient air circulation.
The blowers help uniform heat distribution in the room.
Large ashpan makes the ash collection easy.
There are three models of Brunco Stoves available in the market and are widely popular:
Brunco Furnace #120- This stove accepts 22" log length and covers 2000 to 4000 sq. ft. heating area. With the weight of 600 lbs it provides heat for your heating need in a standard size room. The high temperature output and large ash tray ensures convenient operation. CFM of the blower is 1300 and operates on two speeds. The maximum heating potential is of 120,000BTU's
Brunco Furnace #150- This stove accepts slightly larger log length i.e. of 25" and can cover an area of 3000 to 5000 sq. ft. It is ideal to provide heating for bigger rooms. It has a weight of 725 lbs. CFM of the blower is 1500. The stove heating potential is 150,000BTU's.
Brunco Furnace #190- This furnace is the largest size in this series of Brunco Furnaces. It has the weight of 800 lbs and can cover 3000 to 6000 sq. ft. of heating area. It provides a 190,000 BTU's of estimated heat value. CFM of the blower is 1500.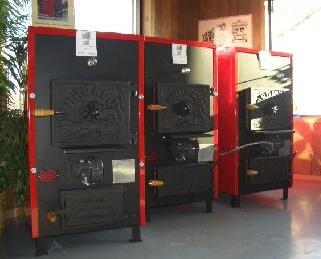 Wood Stove Parts
Used Wood Stoves
Wood Stove Reviews
Pot Belly Stove
Cast Iron
Pellet Stove
Firewood
Chimneys
Chiminea
Wood Stove Pipe
Wood Stove Blower
Antique Wood Stove
Wood Heater
Wood Stove Steamers

Aarrow
Ashley
Austroflamm
Avalon
Blaze King
Breckwell
Buck
Century
Dovre
Drolet
Dutchwest
Fisher
Harman Pellet Stoves
Hearthstone
Jotul
Lopi
Morso
Napoleon
Osburn
Regency
Soapstone
Timberline
US Stove
Vermont Castings
Vogelzang
Whitfield Pellet Stove