Antique Wood Burning Cook Stove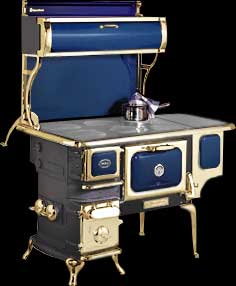 Are you restoring an old home back to its former glory? Or are you restoring an old hotel or bed and breakfast? Are you interested in antique appliances? Are you interested in antiques in general?
Antique wood burning cook stoves from as early as 1870 are still around, and many of them are still functional. These stoves were built to last for a very long time from the strongest in cast iron materials. Antique cook stoves would fit in perfectly with that home, hotel, or bed and breakfast you might be interested in restoring. But you don't have to be involved in a project as major as that to appreciate the beauty and utility. These cook stoves can also be of particular interest to people who enjoy collecting antiques. Widely available in a variety of surviving styles, antique wood burning models can be a good place to start your antique collection. Though, you should be aware that they are very large, and even unwieldy, because they were designed to fulfill several functions. Old-fashion wood burning stoves were meant to be the primary heating unit in the house, as well as a storage facility, and a cooking appliance.