Antique Gas Stoves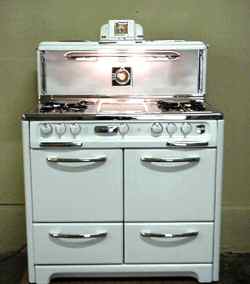 The first gas stove was invented in the 1820s, but gas stoves didn't come into widespread use until the end of the nineteenth century and the beginning of the twentieth century. One thing that contributed to the popularity of the antique gas stove was the widespread use of gas piping in large cities. The oven was integrated into the antique gas stove after 1910. Prior to that, antique gas stoves were a bit unwieldy and difficult to use. Many antique stoves were "always-on" stoves. The gas continued to run, even when the antique gas stove wasn't in use for cooking. These "always-on" antique models would be used to heat the house and supply hot water for the rest of the house.
Old-fashion gas stoves had several benefits over coal or wood stoves. First, the entire surface of a wood stove would be hot, unlike gas models. Secondly, using the piped natural gas cut down on the time, cost, and effort often associated with bringing fuel into the house.
Antique gas models can still be found today due to the popularity of gas stoves in the early twentieth century. By 1930, gas stoves outnumbered wood and coal stoves by two to one.