Amish Wood Stove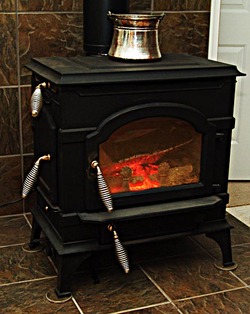 There are approximately 200,000 Amish people in the United States and Canada. The Amish are an Anabaptist Christian denomination with very specific rules, beliefs, and way of life. While the Amish don't shun all forms of technology, they do avoid using electricity, because it violates their doctrine of separation. The Amish wood stove is used because of this doctrine.
There can be some variations on the Amish models. Despite mild variations and some peculiarities, all of them share the same elements. There is always a fire box in the left corner. Shredded paper, wood chips, and small pieces of wood should be used in the fire box. The type and amount of fuel you use is one of the easiest ways to control the heat. A low, slow burn is better than a raging fire.
Amish stoves should also have two dampers. The chimney damper controls the amount of smoke moved out of the wood stove into the chimney. The oven damper is used to control the amount of heat moving between the firebox and the oven.
The entire surface of an Amish stove can be used for cooking. As you spend more time with it, you can get more adept at moving the pots and pans around to capitalize on the hot spots.